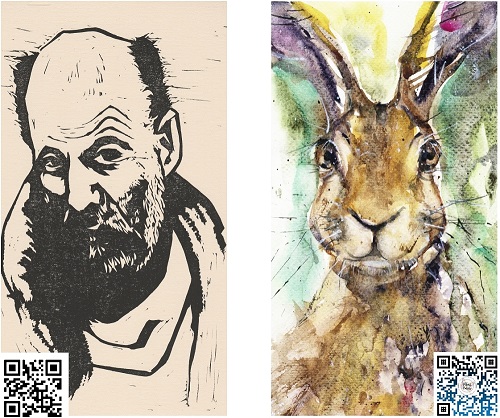 Contrasts
Steve Davies & Magdalena Edwards
22 January - 3 February 2022
Meet the Artists! Steve and Magdalena, both local Rugby artists, will be in the gallery on Saturday 22nd, Friday 28th and Saturday 29th January.
60@60
Anthony Dix - A reflection on 40 years as a maker
5 - 17 February 2022
After studying for a degree in 3D Design Ceramics in Cardiff in the 1980s, Anthony Dix emerged as a potter, who to this day has wanted to make functional ceramics for everyday use. Distracted by a thirty-year career teaching Art and Design he finally settled in Warwickshire 20 years ago. In 2019 Anthony retired from teaching to focus on the family and his art. He built a new soda/salt kiln and set about developing his work that is initially thrown, then constructed and altered to make the functional forms. Inspiration is drawn from utilitarian architecture, engineering precision and the natural world, with a particular focus on fossilised forms like ammonites and other spiral structures found in nature.
His work never stops developing. He constantly alters and experiments with surfaces in the soda kiln and with the refining of shapes and forms to challenge his own perceptions of what makes a good pot. The exhibition is a reflection on 40 years making and Anthony has returned to some pieces made at degree level and combined this with current pieces.
The exhibition pieces are all for sale throughout the the exhibition.
Floor One Hire for Individual Artists and Groups
Floor One Gallery was established in September 2001 to provide more exhibiting opportunities for artists within Warwickshire and beyond. Individual artists and groups of artists can hire the space for two week slots to stage self-organised exhibitions.
The demand for this space is very high and to make Floor One Gallery available on an equal basis to all and any artists that apply we operate a lottery system. Every six months to a year we release available dates through our artists' emailing list and the e-newsletter. Artists are then invited to send in their application by a set date. Applications are anonymised and then drawn from a hat by an independent adjudicator.